In Search of Public Space
Joanna Rajkowska in conversation with Maggie Humm, Martine Rouleau and Katarzyna Depta Garapich
discussion chaired by Kinga Stanczuk
Seminar and Book Launch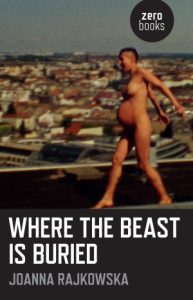 Venue:
4th floor Masaryk Senior Common Room
UCL School of Slavonic and East European Studies
16 Taviton Street, London WC1H 0BW
5-7 pm
Where the Beast is Buried, Joanna Rajkowska's first English Language book, covering her artistic projects, gives the opportunity to talk about the role of art and public spaces in European contexts:
Where is freely accessible public space?
Is a public space in Eastern Europe different from that in UK?
What can we do within it?
How controlled is it and where are the limits of this control?
The following guests will take part In the discussion with Jonana Rajkowska
Maggie Humm (University of East London), Martine Rouleau (UCL)
and Katarzyna Depta-Garapich (Polish artist based in London).
Where the Beast is Buried
The first English-language book about Joanna Rajkowska and her unique practice of work in public spaces, within the contexts of diverse cultures and geographies.
Rajkowska's unique artistic vision and methodology combines subjective narratives and critical discourses with a deeply felt concern for the spaces in which her works appear and the people they touch. Instead of simply invading or occupying public spaces, she blurs the identities and hidden tensions associated with them, navigating around communal dreams and fears. Historical trauma, cultural discourse, aesthetic relevance and geopolitical references all blend in her works in ways which both distress and heal, challenge and resolve, attack and absolve.
More information visit Zero Books website
Press release:
press_release_where_the_beast_is_buried
A food and wine reception will follow the discussion. All are welcome.